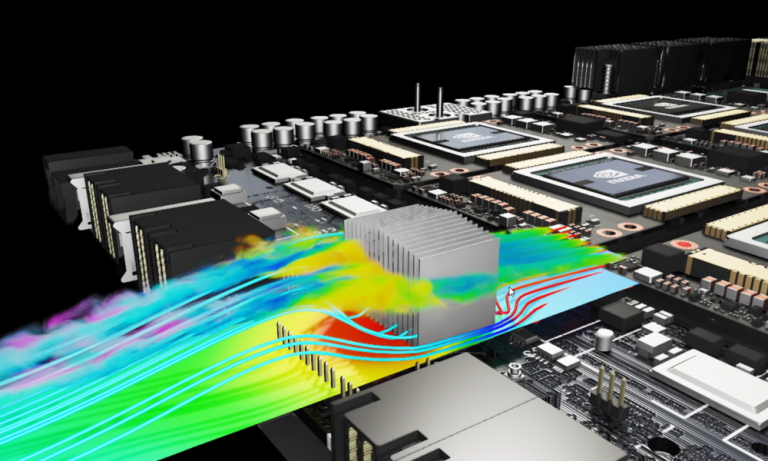 NVIDIA SimNet is a physics-informed neural network (PINNs) toolkit, which addresses these challenges using AI and physics.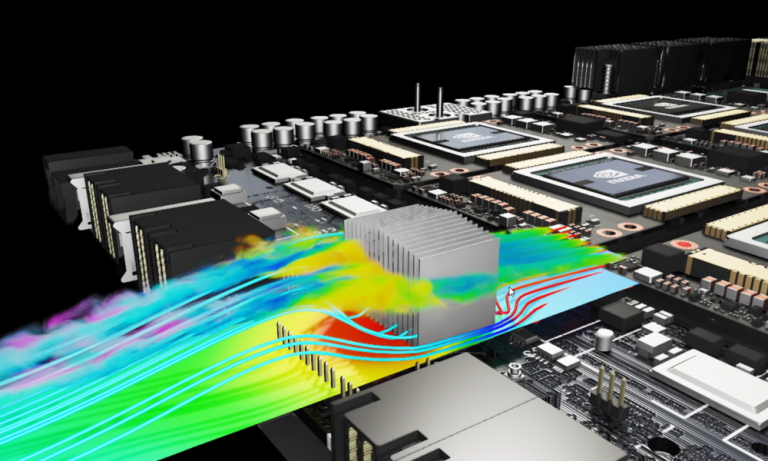 Today, NVIDIA announces the release of SimNet v21.06 for general availability, enabling physics simulations across a variety of use cases.
NVIDIA SimNet is a Physics-Informed Neural Networks (PINNs) toolkit for engineers, scientists, students, and researchers who either want to get started with AI-driven physics simulations, or would like to leverage a powerful framework to implement their domain knowledge to solve complex nonlinear physics problems with real-world applications. 
V21.06 builds on a successful early access program of baseline features, and layers on additional new capabilities. This GA release introduces support for new physics such as Electromagnetics and 2D wave propagation, as well as delivers a new algorithm that enables wider number of use cases for simulating more complex Fluid-Thermal systems. New time stepping schemes have been implemented for solving temporal problems, treating time as both discrete and continuous.  
Other features and enhancements include a gradient aggregation method for increased batch size on each GPU, adaptive sampling for increased point cloud density in regions of high losses, homoscedastic task uncertainty quantification for loss weighting, transfer learning algorithm enables rapid training for efficient surrogate-based parameterization of STL as well as constructive solid geometries and Polynomial Chaos Expansion method for assessing how uncertainties in a model input manifest in its output. SimNet v21.06 also expands the existing network architectures with Multiplicative Filter Networks. 
SimNet v21.06 Highlights 
Electromagnetics
Frequency domain electromagnetic simulation can be carried out using SimNet v21.06. Solution of real form of frequency domain Maxwell's equation is available either in scalar form (Helmholtz equation) for 1D, 2D and 3D cases, or in vector form for 3D case. The boundary conditions can be perfect electronic conductor (PEC) for 2D and 3D cases, radiation boundary (absorbing boundary) condition for 3D and waveguide port solver for 2D waveguide source. The implementation can solve for 2D TEz and TMz mode frequency domain electromagnetics and 3D electromagnetics in real form.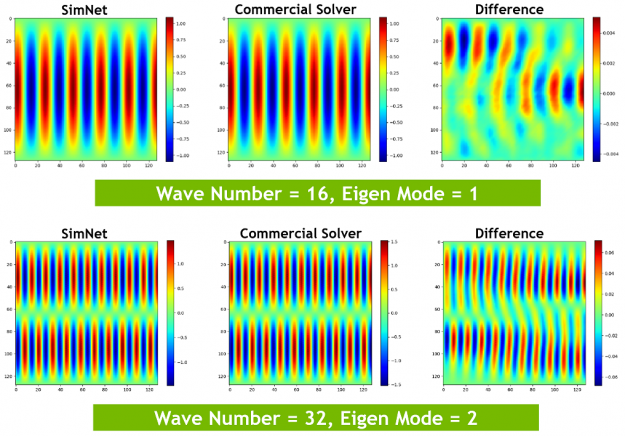 Time Stepping Scheme for Temporal Physics
Transient simulations are required for many computational problems in such fields as fluid dynamics and electromagnetism. Until recently, neural network solvers have struggled to obtain accurate results. Using several innovations in this field, SimNet is now able solve a variety of transient problems to significantly greater degree of speed and accuracy. Shown below is Taylor-Green vortex decay using transient and turbulent Navier-Stokes simulation. 
Transfer Learning
In repetitive trainings, such as training for surrogate-based design optimization or uncertainty quantification, transfer learning reduces the time to convergence for neural network solvers. Once a model is trained for a single geometry, the trained model parameters are transferred to solve a different geometry, without having to train on the new geometry from scratch. 
Transfer learning accelerates patient-specific intracranial aneurysm simulations.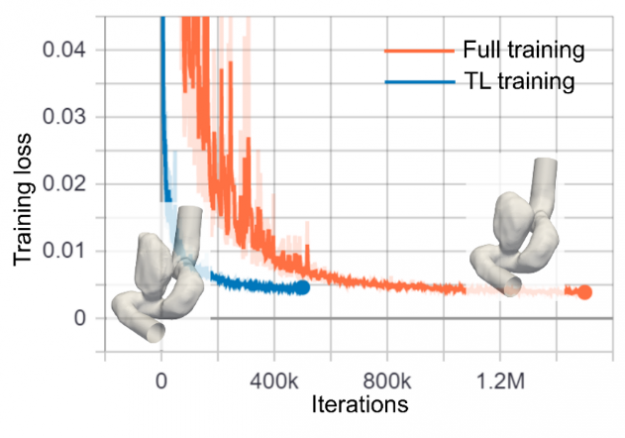 Gradient Aggregation
Training of a neural network solver for complex problems requires a large batch size that can be beyond the available GPU memory limits. Increasing the number of GPUs can effectively increase the batch size but in case of limited GPU availability, you can use gradient aggregation. With gradient aggregation, the required gradients are computed in several forward/backward iterations using different mini batches of the point cloud and are then aggregated and applied to update the model parameters. This will, in effect, increase the batch size (although at the cost of increasing the training time). 
Increasing the batch size can improve the accuracy of neural network solvers.  
Recent SimNet On-Demand Technical Sessions
Read the paper "NVIDIA SimNet: an AI-accelerated multi-physics simulation framework". 
Join our new Forum for community discussion. Post your questions and comments pertaining to AI-driven physics simulations with NVIDIA SimNet.  
Give SimNet v21.06 a try today by downloading it here.